Upcoming Events
The Impact of Alternative Finance on the Equipment Finance and Leasing Industry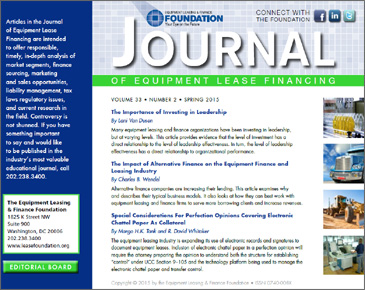 Alternative finance companies are increasing their lending. This article examines why and describes their typical business models. It also looks at how they can best work with equipment leasing and finance firms to serve more borrowing clients and increase revenues.
Recent Webinar: Cross Selling Post Wells Fargo, A Road Map for Bank Management
How Can We Help You
FIC Advisors, Inc. can assist your financial business with a broad array of services. We provide our clients with a flexible operating model, allowing us to customize the level and type of our involvement to meet client needs.
Selecting an Alternative Lending Approach and Partner: The Banker's Perspective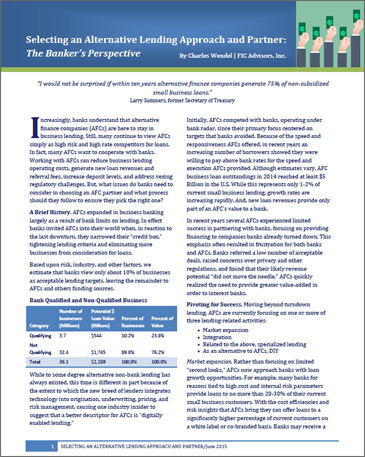 FIC's new perspective on the decisions banks need to make in considering whether to participate in the alternative finance space and in selecting a partner. We already see banks making mistakes in their section decisions, based upon incomplete information and poor internal analysis.
Audio: If You Can't Beat 'Em, Join 'Em: Bank Collaboration and the Emergence of Composite Lending
MN's 2nd Annual Investors' Conference on Marketplace Lending
Join the LinkedIn Group: Banks and Alternative Finance
This new group provides information on emerging trends in the alternative finance space and allows for questions and discussion of key issues.
Industry Trends and Insights
Read our articles about the financial industry trends and insights. Get up to day with our catalog of publications that benefit many professionals in the financial services industry are featured on leading industry publications.
Who We Are
Charles Wendel, the President of FIC Advisors, Inc., has extensive experience as a banker and a consultant. He is a well-known public commentator on industry issues and a personal advisor to industry leaders.